We've been leading our Newtown Chewtown – Food & Street Art tour for over 2 years now, but we recently realised – most of the street art we show guests are by male artists. Maybe it is the route we chose based on food stops, or maybe it is our own biases, but it got us thinking, could we design a street art walk of Sydney that is dedicated to female street artists and pieces that celebrate women?
After several afternoons of meandering Newtown and Darlington, the answer is "Yes We Can!". It turns out there is actually a lot of amazing street art by some fantastic artists hiding all around these neighbourhoods, and a large number of them are thanks to the Inner West Council's "Perfect Match" street art project.
To coincide with International Women's Day, we present our "Yeah The Girls" Street Art Self Guided Walk. This walk takes around 2 hours and starts at Redfern station (like our Scottie Marsh self-guided walk) but covers a slightly greater distance, around 4.8 km. If you'd like to download the directions straight to Google Maps, click this link. For a shorter route (3.3 km) which skips the first two pieces of art and starts at Newtown station, click this link. Alternatively, you can click on our map below and download it or print it before you start. Let's go!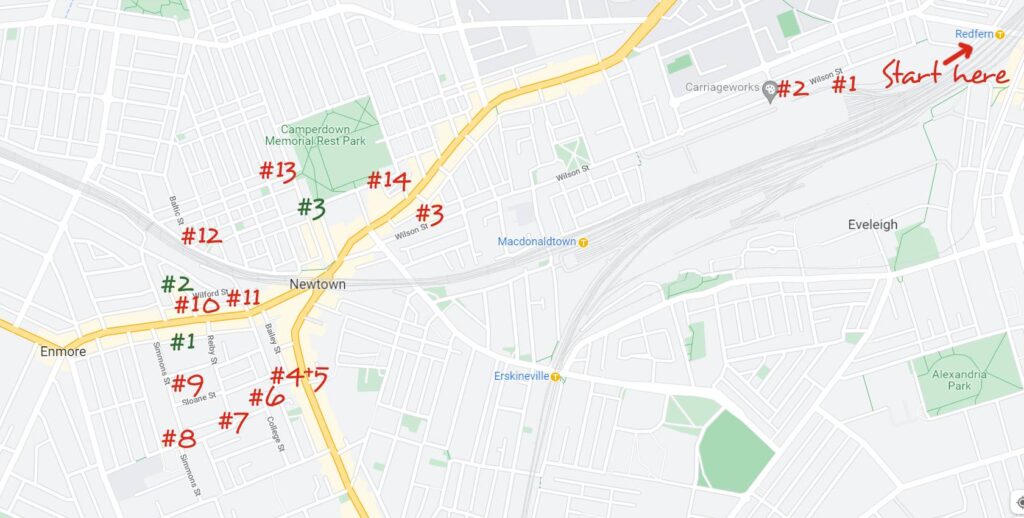 From Redfern train station, exit to the left and follow Little Eveleigh St around to Wilson St (it may be closed due to the station upgrades, if so, just follow the signs along Lawson St to access Wilson St via Ivy St). Continue along Wilson St for about 200 metres and keep an eye out on the fence on your left.
Mural 1: Skippy Girls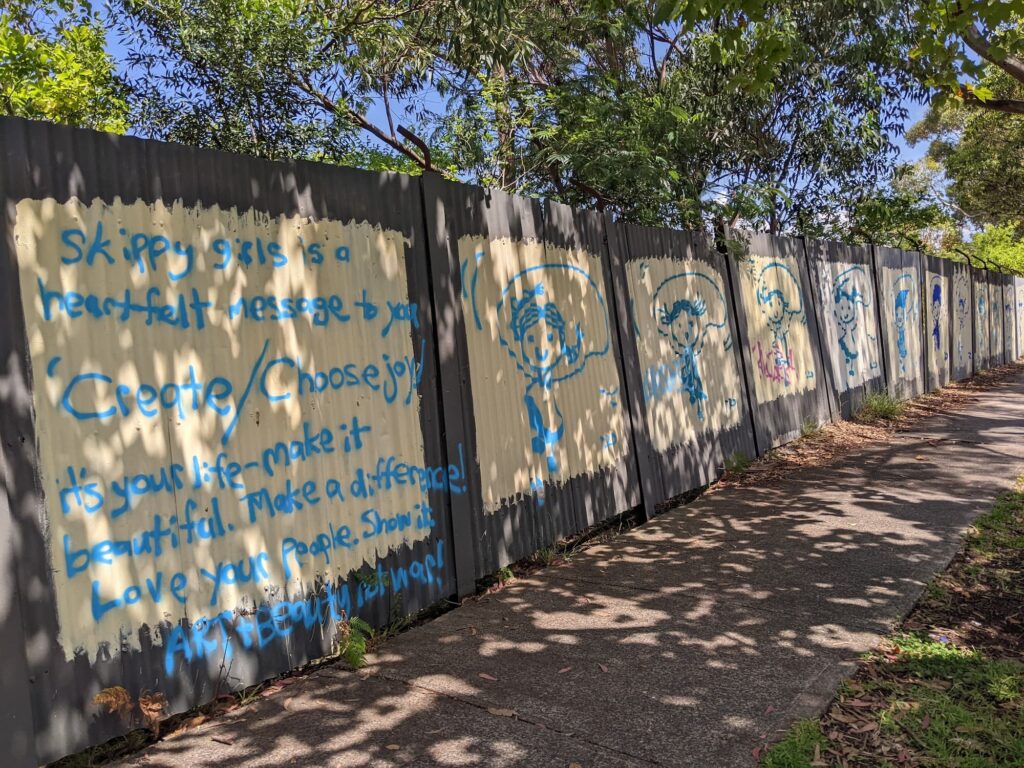 "Skippy Girls", which stretches for about 100 metres along the fence on Wilson St, was originally painted in 1995 by local artist, Rose Strachen. Rose says that she was inspired by a ceramic tile/mosaic installation that she came across outside a London primary school, and the kids and families of Wilson Street certainly love her piece.
Now over 25 years old, the painting has gone through many iterations, with locals sometimes giving the skippy girls a fresh coat of paint, or even adding face masks in 2020. Rose runs art classes for children and can be contacted through her personal website here.
Keep hopping, skipping and jumping your way down Wilson St – we're going from the oldest piece of art to the newest! Stop across the entrance of Carriageworks and check out the side of 372 Wilson St.
Mural 2: Darlington Incorporated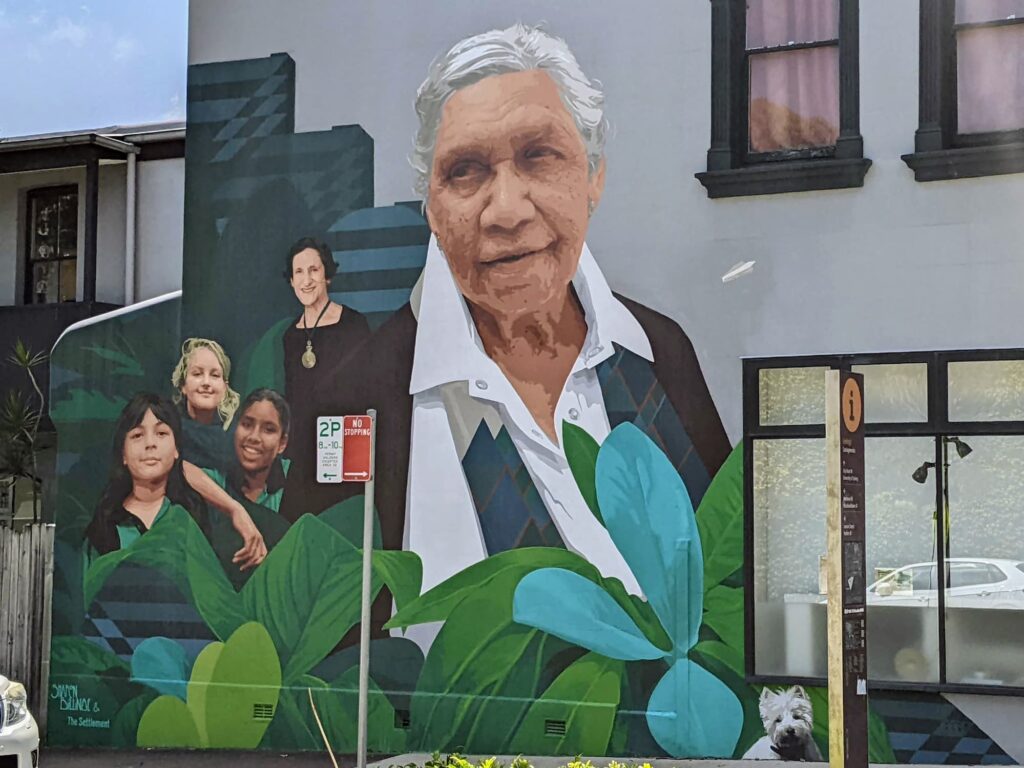 This mural by Sharon Billinge (@sharonbillinge) was finished in May 2021, and was funded by a City of Sydney creative fellowship grant in partnership with The Settlement Neighbourhood House.
It depicts two strong women, Aunty Beryl van Oploo and Dame Marie Bashir, who have contributed to Youth Support and Education in the area. The three girls are students from The Settlement after-school care program. Each of them have an object from their lives hidden in the mural – can you find them? The terrier on the right-hand side is the wall owner's pet. For more info on the piece, read this article.
We're going to continue down Wilson St for about 1 kilometre now, but fear not – there are 3 cafes on the way (Hollis Park Cafe, One Another and Klub Satellite) if you need some caffeine to keep you going. You could also pop into the always excellent Rising Sun Workshop for some ramen lunch (tell them Local Sauce sent you, we visit then on our Newtown tour). Our next mural is in the carpark after UKO Living and Guilles Salon.
Mural 3: Live Outside 2017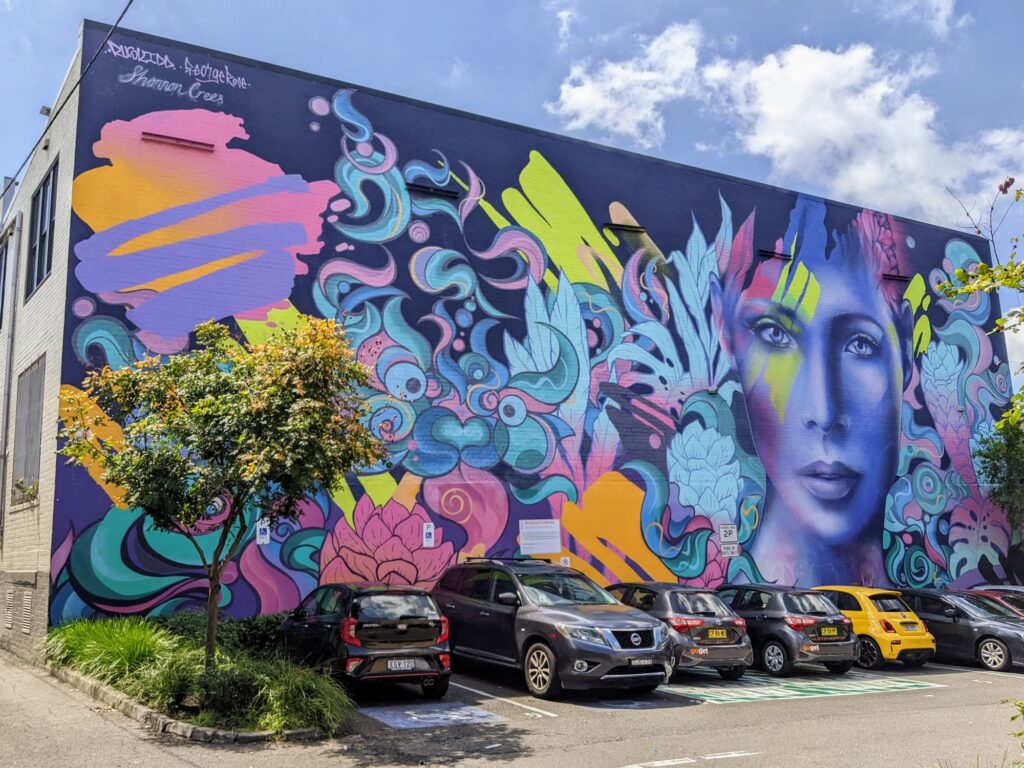 This massive mural is so big it required three artists! Shannon Crees (@shannoncrees), George Rose (@george_rose) and Oli Ruskidd (@ruskidd) worked around the clock over 5 days in 2017 to complete this epic piece. Want to see them complete the whole piece in a one minute time lapse? Of course you do!
The mural was commissioned by US backpack company Jansport as part of their annual "Live Outside" street art project and measures almost 30 metres across and 13 metres high. Stand back and take it all in…
Can you spot the dragon? And if you go up close on the left hand side, you might find a little ceramic addition…Trump's on a wall!
Mural 4: A Rising Tide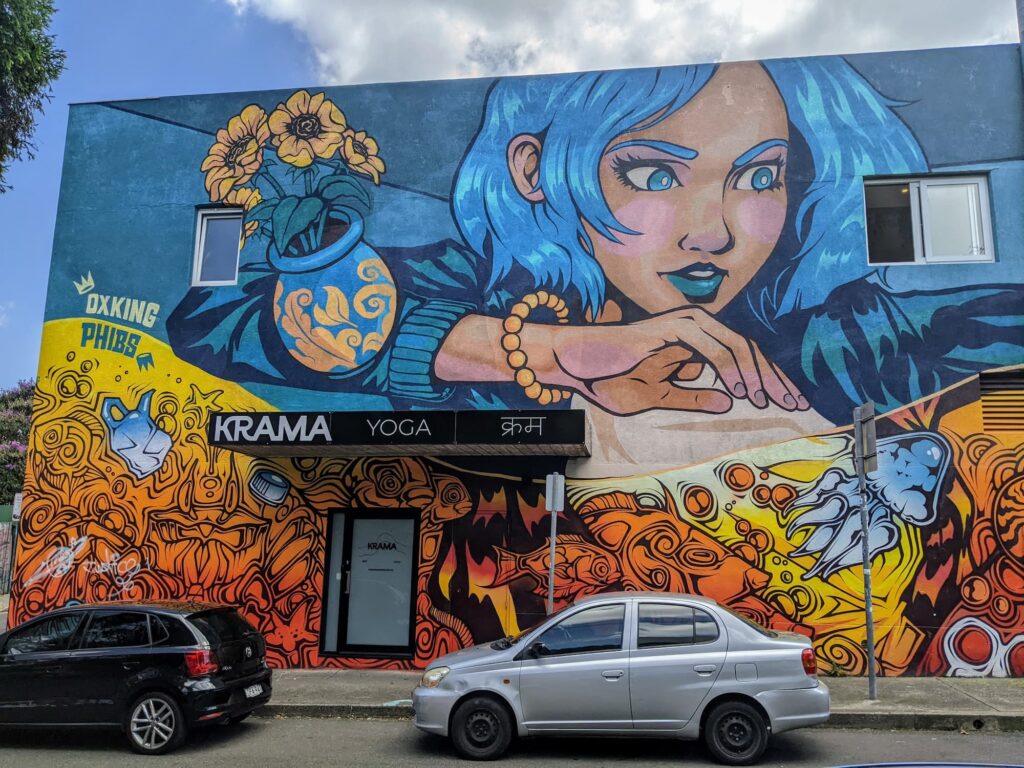 Okay, so "A Rising Tide" isn't by a female artist, it is a collaboration between two male artists, Phibs (@phibs_has_instagram) and Ox King (@theoxking). Having said that, the subject is a young female student, it is on our route and you can't miss it, given its size and colourfulness. The artists describe the piece as follows:
"In one of Newtown's iconic terrace houses, a young student reacts in alarm to an impending flood that surges into her life. The youth depicted is struggling with a housing and rental crisis, where life means keeping her head above water. As the tide rushes in, she knocks over the vase of flowers, asking us to question how our actions may impact nature, even if they are involuntary."

Phibs and Ox King
On the other side of the street, you'll find our next piece.
Mural 5: Bad Magpies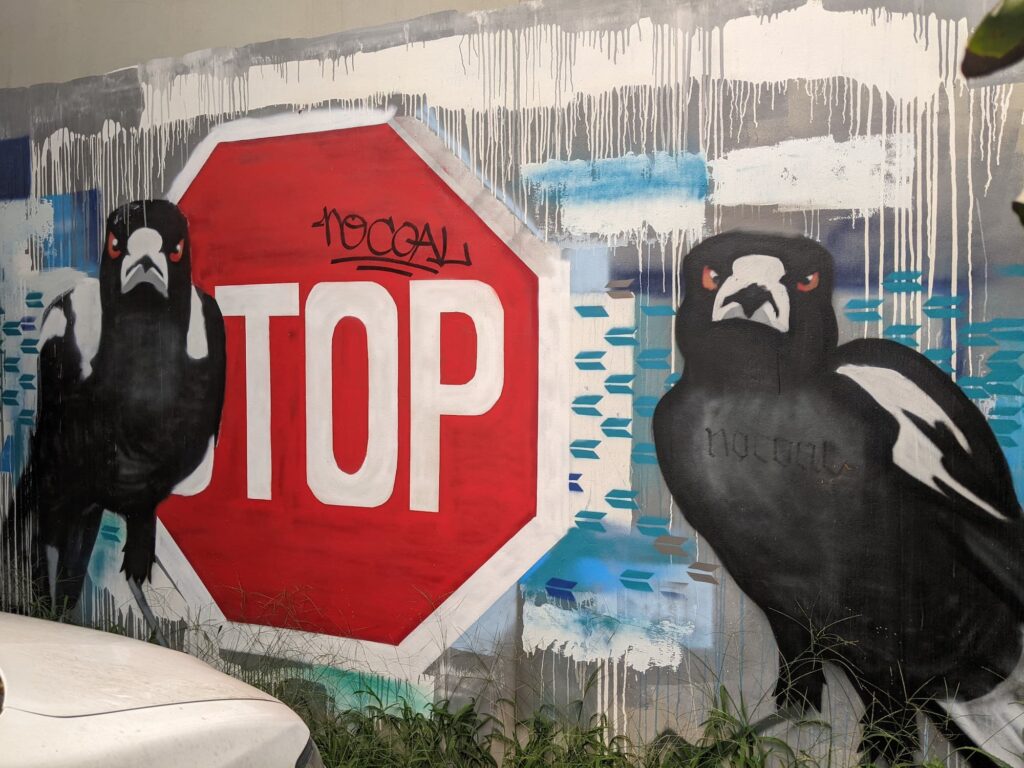 "Bad Magpies" by Karen Farmer has become so popular, they have their own Instagram account (@badmagpies).
Karen Farmer is an internationally recognised artist based in Sydney and her paintings of these very angry magpies adorn street signs, garage doors and fences all around the inner west. Personally, they give me nightmares – swooping magpies are not to be messed with.
Once you're suitably scared, continue on via the small pathway ahead to your left, which will take you around to College St. On the corner of College and Holt St is our next work.
Mural 6: Emily Kngwarreye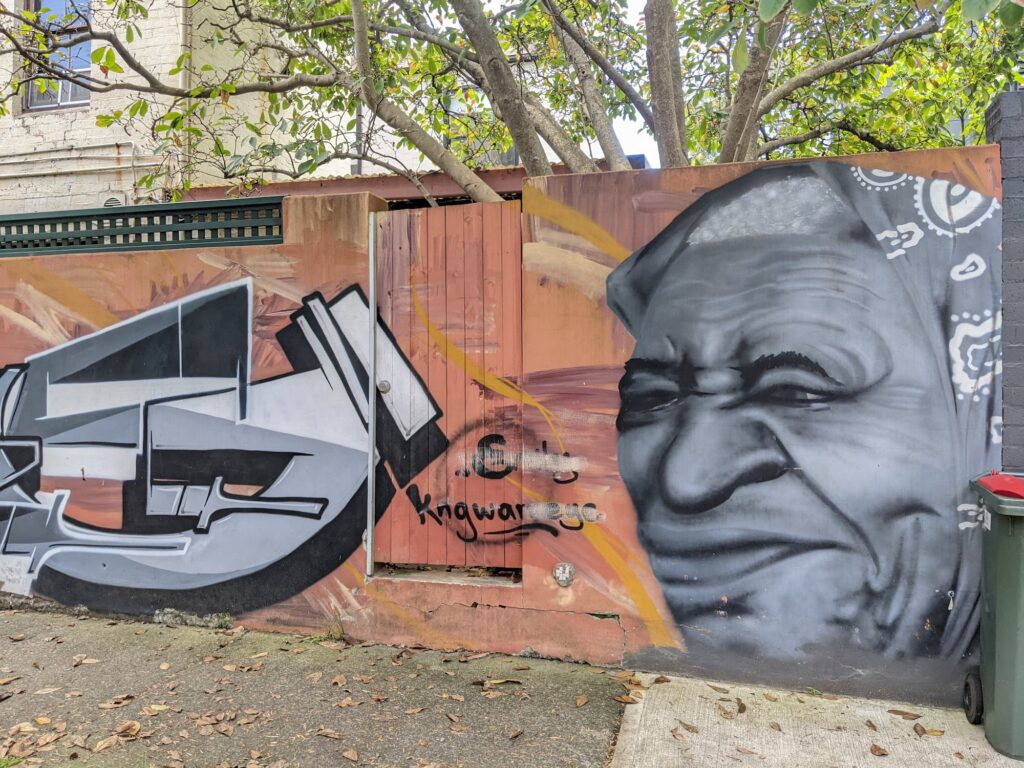 I haven't been able to find out who did this mural, but it is worth stopping at to reflect on the subject, Emily Kame Kngwarreye.
Emily Kame Kngwarreye is one of Australia's most significant contemporary artists. Although she only began to paint late in her life, it is estimated that she produced over 3000 paintings in an eight-year career. That works out to be an average of one painting per day!
Born in a remote desert area north-east of Alice Springs, for virtually two-thirds of Emily's life, she had only sporadic contact with the outside world. It was only in her 80s that she became, almost overnight, an artist of national and international standing. A few years ago, one of her paintings, "Earth's Creation 1", sold for $2.1 million, setting a new record for the most expensive piece of art by an Australian woman.
From here, continue down Margaret St for about 100 metres.
Mural 7: Mary
This beautiful piece is by Sharon Billinge (@sharonbillinge), and was completed in 2017 as part of the Perfect Match project. The mural celebrates strong, fearless women in control of their own destiny and shows a young girl starting to make decisions about what and where she wants to be.
The piece is inspired by Mary Reibey, who lived close to Margaret St (we'll talk more about her later). Mary Reibey is on the $20 note and was an important figure in Sydney's early days as a colony.
Continue wandering down Margaret St until you get to the pathway which takes you through to Simmons St.
Mural 8: Georgia Draws A House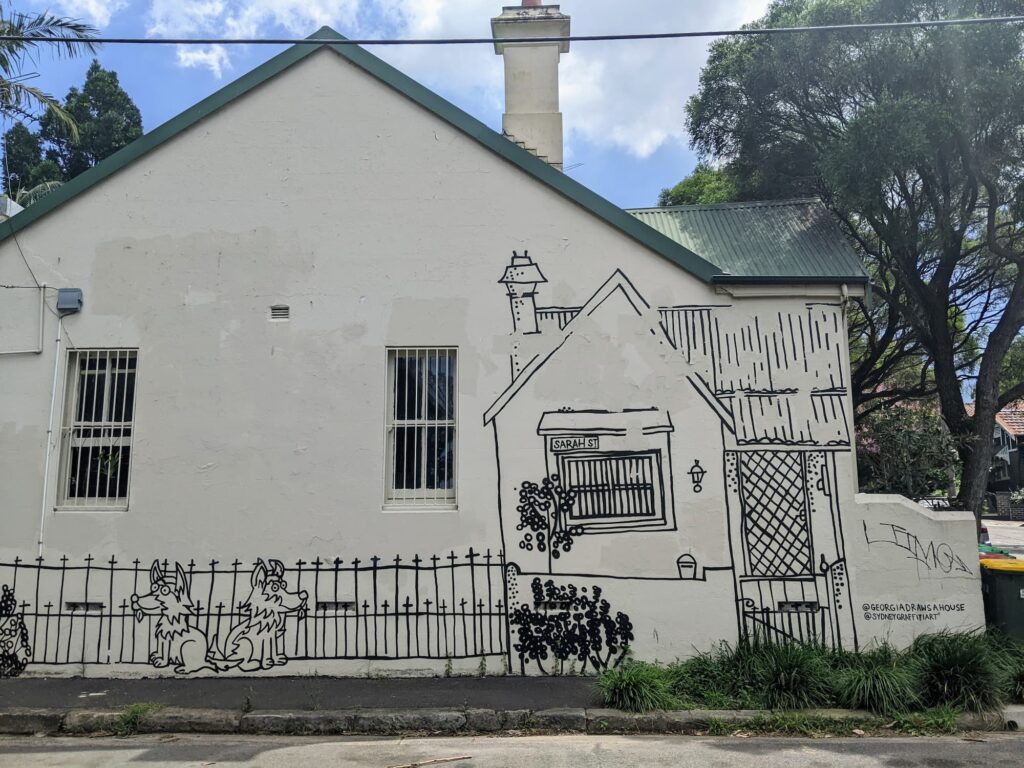 Georgia Norton Lodge (@georgiadrawsahouse) is an inner-west artist who started an illustration business, drawing people's houses, in her twenties. In 2019, her business took off after spray painting a mural of her family home in Annandale, on the side of her family home (located opposite Cornersmith). The house soon became the location of numerous selfies and a feature article in Sydney Morning Herald allowed her to make her side-hustle a full-time operation.
She recently self-published a colouring in book of houses in the Inner West, which is available at select bookstores and art stores including nearby Art on King and Gleebooks.
Continue up Simmons St until you reach Sloane St.
Mural 9: Bring Back the Butterflies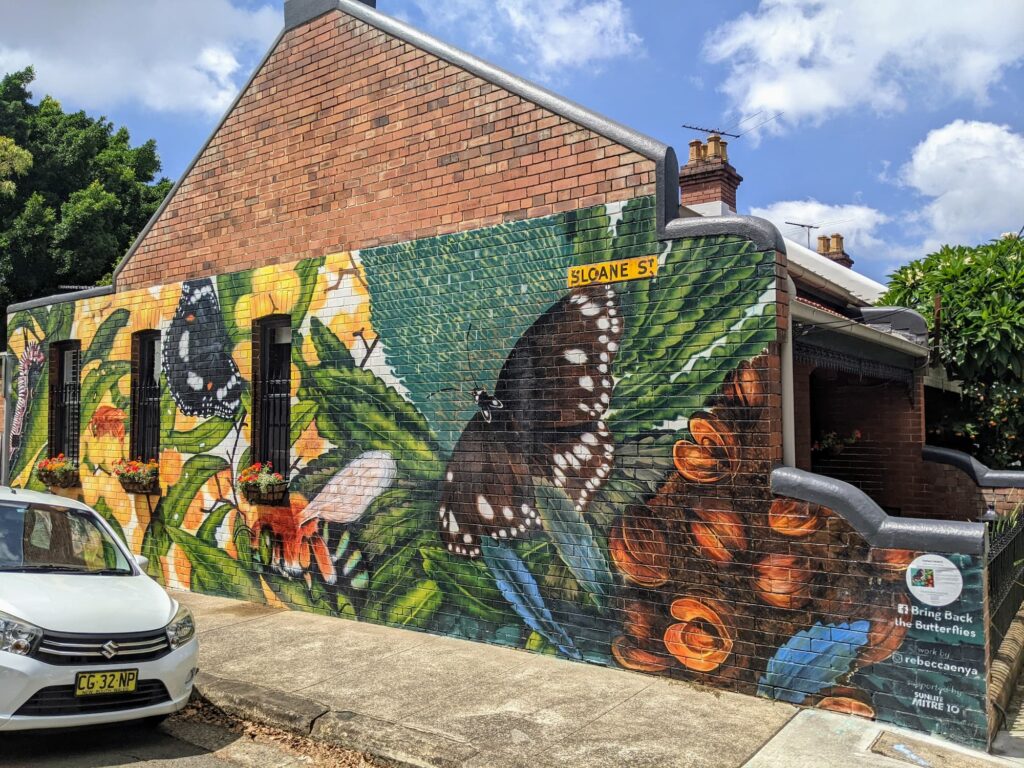 Another Perfect Match contribution, this 2017 work by Rebecca Lourey (@rebeccaenya) aims to promote the reintroduction of Australian native flora, bees and butterflies back into our urban backyards.
Rebecca is a freelance illustrator and mural painter who works across a variety of mediums. She said painting this mural was "the most challenging thing I've ever done". I reckon it is amazing and hope Rebecca does a few more murals around the Inner West.
Once you're done admiring all the bees and butterflies, continue up Simmons St until you get to Pemell Lane and take a right.
Historical interlude: Elizabeth Reibey's house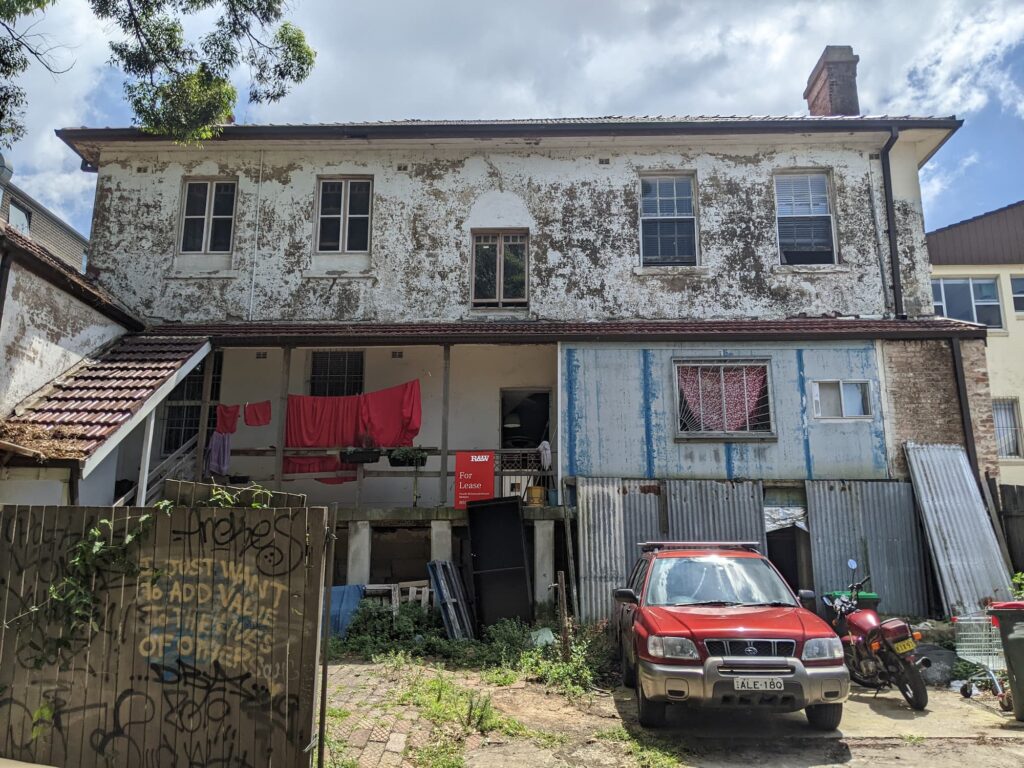 Okay, I know what you're thinking – why are we stopping at the back of this run-down house? But the backstory behind this house is fascinating!
We mentioned Mary Reibey earlier, with Sharon Billinge's mural on Margaret St. If you've never heard her name before, pull out a $20 note and have a look at the old lady looking back at you. That's Mary Reibey!
David Hunt sums her up well in his book "Girt":
Nobody embodies female colonial opportunity more than Mary Reibey. The po-faced grandmother on our $20 note was Australia's first cross-dressing, horse-thieving, seal-clubbing convict entrepreneur and standover woman.

David Hunt in "Girt: The Unauthorised History of Australia"
After stealing a horse while dressed as a boy, Mary was sent out to Sydney, where upon she met a junior East India Company officer by the name of Thomas Reibey. They married, had seven children and built a successful pastoral business. Thomas passed away young, leaving Mary to continue running the family business while raising all the children, which she proved to be very adept at. In fact, she expanded into acquiring land around Sydney. When Governor Macquarie came knocking looking for a branch for the first bank of Australia, Mary offered one of her properties near Circular Quay. Thus, she became the landlady of the Australia's first bank, and her wealth grew even more.
Mary had a grand house just around the corner from where you currently are (on Reiby St), and this house that you're looking at is the one she built for her daughter Elizabeth. Afterwards, the Pemell family lived here until 1900, which is why the lane is known as Pemell Lane.
Today, despite her age and significant modifications, this old dame of a mansion survives as an enduring memorial to the incredible Mary Reibey, a woman whose life story and adventures more people should know about!
From here, continue along Pemell Lane to Reiby St and take a left, cross Enmore Rd at the nearby lights and continue down Wilford St. On Wilford Lane, behind Cairo Takeaway, is a small mural by Merilyn Fairskye, called "Detail. 2020". Featuring little blue robins hiding amongst foliage, this 3 metre mural is a mirror image. This is mural 10 on the map.
You might need a drink or feed by this point, so my recommendations would be Young Henrys (for a drink), Cairo Takeaway (for food) or Hakiki (for ice cream). Once you're done, there is another mural on the other end of Wilford Lane that we're going to quickly check out.
Mural 11: Girl with camera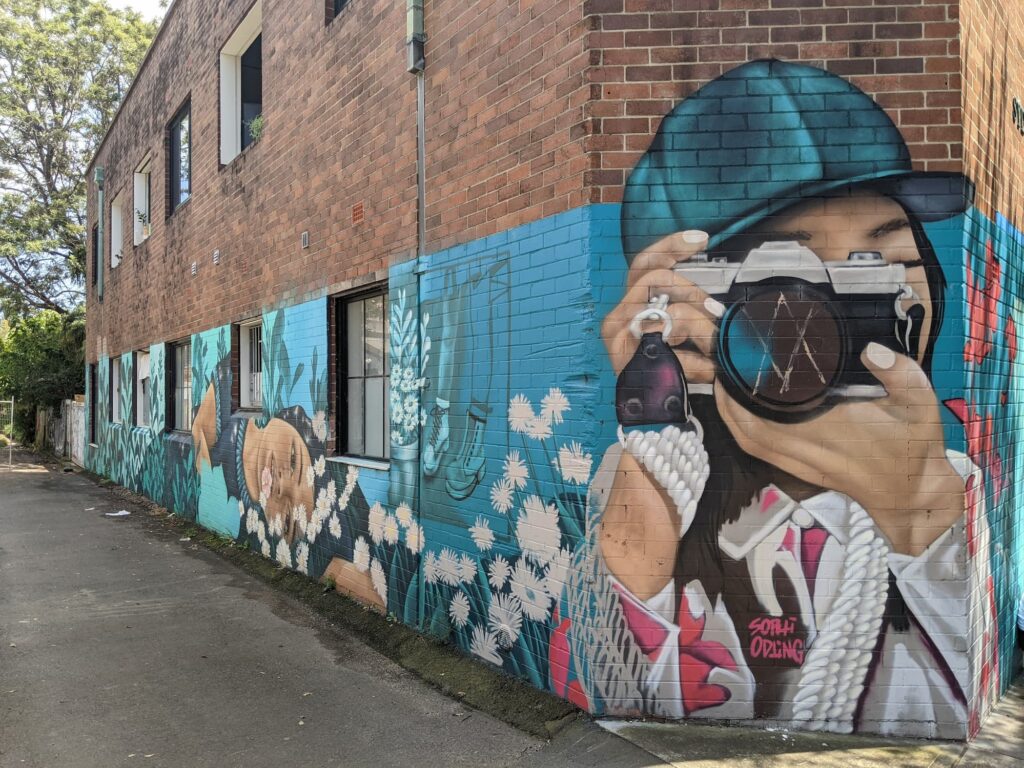 Painted by Sophi Odling (@sophiodling) in March 2021, I haven't been able to confirm the name of this piece, or even information on the backstory behind the mural or who commissioned it. If you know, we'd love to be able to add that detail to this post!
Sophi is a Sydney-based street artist born in South Korea. In 2016 Sophi started painting murals after a 14 year career in fashion. Her murals can be seen across America, South East Asia, Central America and Australia, and she has exhibited in Tokyo and Australia.
From here, you can backtrack along Wilford St to Gladstone St until you get to the train line underpass on the corner of Phillip and Trafalgar streets. Once on the other side of the tracks, take a right and walk along Bedford St until you get to the house on the corner of Baltic St and Horbury Lane.
Mural 12: Caroline Chisholm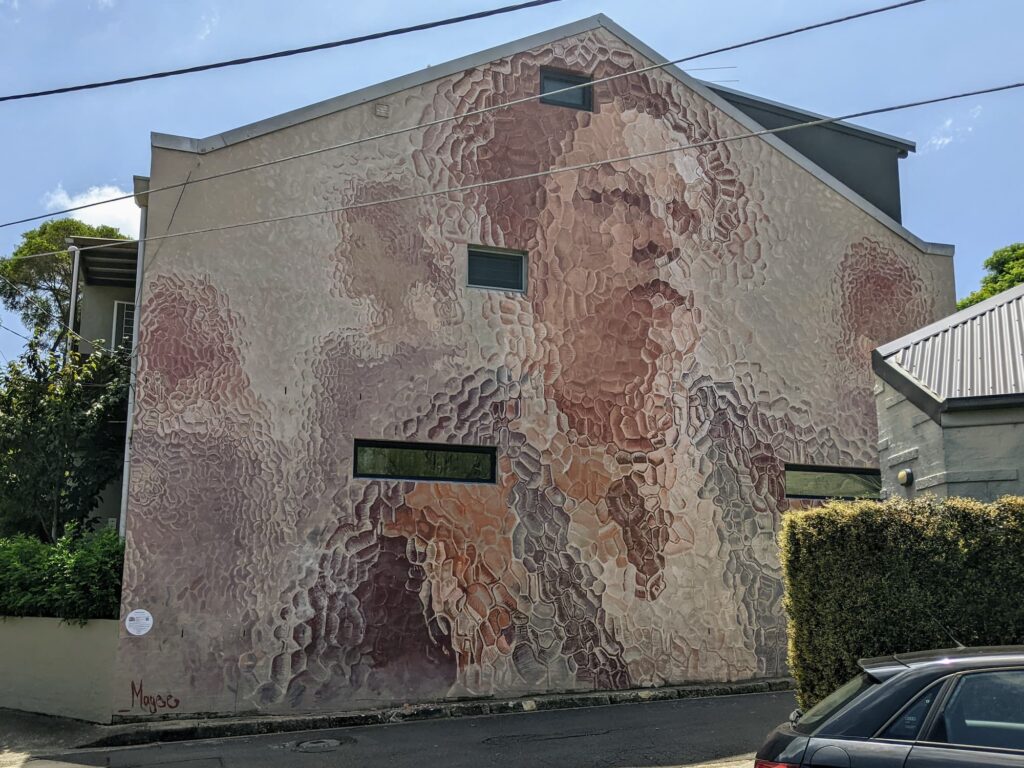 This mural is by Fintan Magee (@fintan_magee), an international renowned street artist. It was completed in 2021 as part of the Inner West Council's "Perfect Match" project.
The mural depicts Caroline Chisholm, a 19th-century English humanitarian known mostly for her support of immigrant female and family welfare in Australia.
Caroline Chisholm arrived in Australia in 1838 and soon established herself as a philanthropist in the colony, helping young immigrant girls when they arrived in Sydney with employment and accommodation. She had a strong connection with Newtown, opening a girl's school in the area in 1862.
Fintan has been experimenting with this "bevelled" or "frosted" glass technique for the last couple of years, which he describes as a "meditative" process, requiring significantly more time than his usual style of mural painting. It is absolutely amazing to see how he creates the effect up close.
From here, zig-zag your way up to Albermarle St, and then continue along until you reach Australia St.
Mural 13: Yeah the Girls x Stayfly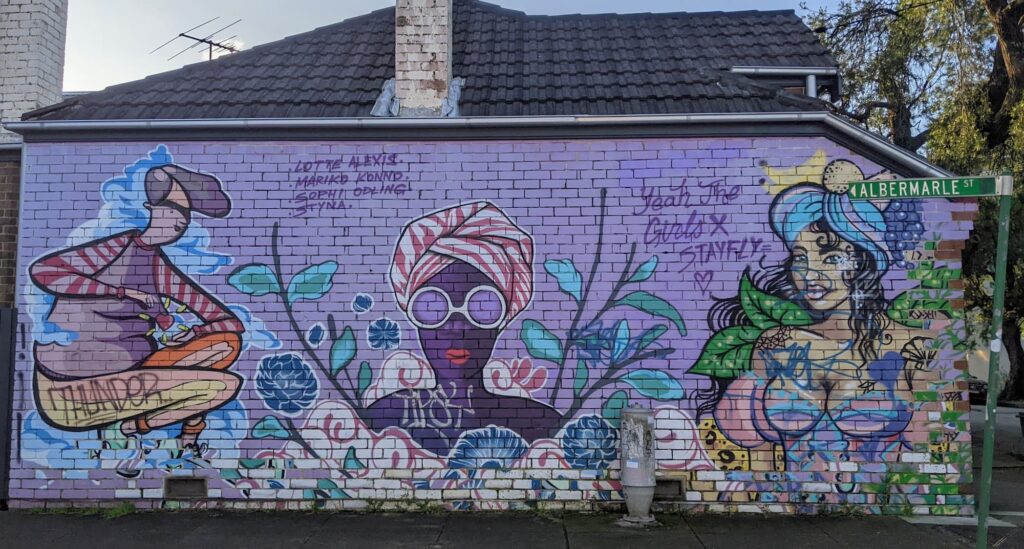 Four artists, Lotte Alexis, Mariko Konno, Sophi Odling & Styna, collaborated on painting this mural in 2017. Unfortunately there has been a bit of tagging to the work since then, but I love how the different styles of the artists have combined to create such a colourful piece of art.
If you'd like to see a video of the painting, click here.
We've got just one more piece to see, and it is through Camperdown Park at the back of the IGA carpark. Follow the path through the park to Lennox St and then enter the carpark from Lennox St.
Mural 14: Women's Honour Roll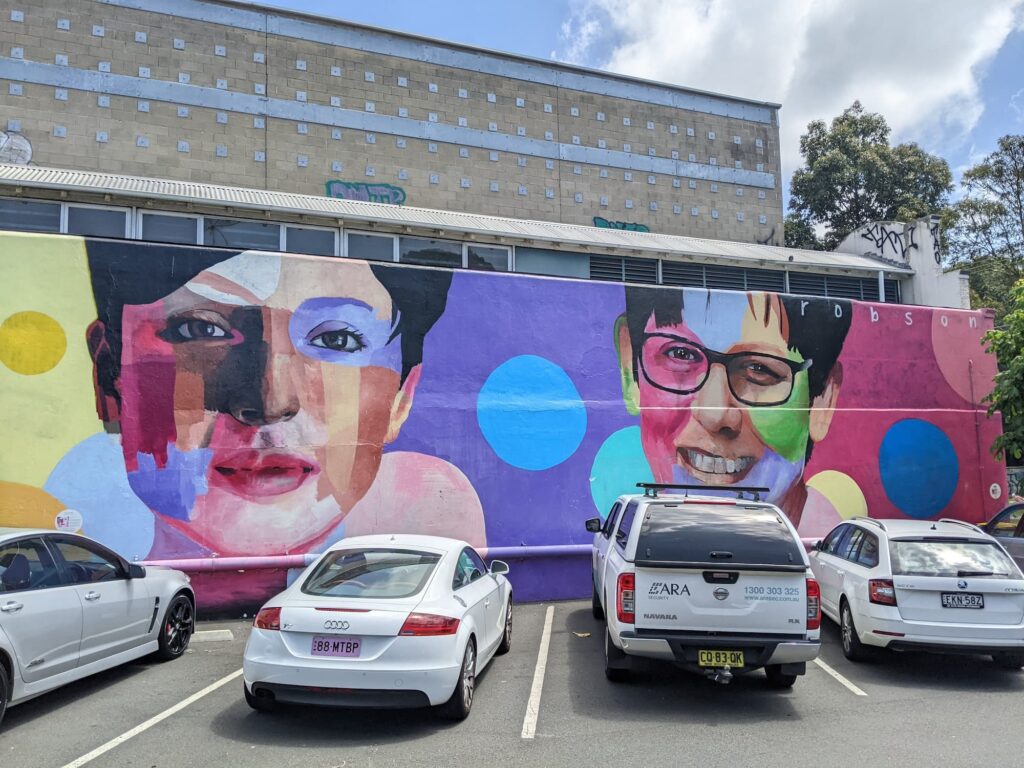 Yet another Perfect Match mural, this one is by Brad Robson and was painted in 2019. It depicts four local women who have contributed to the community in various ways: Betty Spears, Rosemary Hegner, Barbara Ramjan and Uppma Virdi.
I can't do justice to their contributions here, but there is information on each woman next to the mural.
And on the other side of the carpark, you have another Ox King piece, "The Promise". But to find out about that one, you'll have to join our Newtown Chewtown – Food & Street Art tour! Or you could just read the info sign that the Inner West Council has provided 😉
That completes our "Yeah The Girls" Female Street Art Self-Guided Walk. If you're interested in the colouring in book by Georgia Norton Lodge you could pop by nearby Art on King, or visit Better Read Than Dead to pick up a book to learn more about some of the topics we've mentioned on the self-guided walk. We recommend Melinda Vassallo's "Perfect Match: Street Art of the Inner West"; David Hunt's "Girt" series of fun Australian history books which includes more stories on Caroline Chisholm, Mary Reibey and other female pioneers, or Alan Sharpe's "Pictorial History: Newtown" book to learn more about Newtown's history. Or if you're hungry, there is no shortage of options on King St!
If you enjoyed this self-guided tour, you'll love our Newtown Chewtown – Food & Street Art experience!
Every Sunday afternoon, we take a small group on a guided tour through Newtown, checking out street art from Scottie Marsh, Fintan Magee, OX King, Sindy Sinn, George Rose, Shannon Crees, Ruskidd and more. Click here link to find out more.
LEAVE US A REVIEW PLEASE? If you have completed this self-guided tour, we'd love to hear your thoughts. A review on TripAdvisor or Google really helps us out and makes it easier for other people to find this walk as well 🙂
If you have any questions or comments, we'd love to hear from you! Contact us on Instagram, via our contact form or use the pop-up chat window.